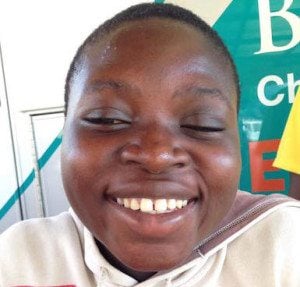 I am 12 years old. One month ago, I instantly went blind in my left eye. I was on my way to school when the traumatic accident happened.
The region where I live is called the plateau region of Togo, West Africa. We are known for our farming. To go to school is a privilege not obtained by many. Most children where I live farm, too. I was lucky to be a student. It made me and my mother so happy.
We are trying to build our new school, and we as students are doing most of the work. It is our job to create the clearing of the land and gather the lumber and carry the heavy wood loads atop our heads.
The other children were stronger than I and went running ahead of me. I tried to catch up, but I fell with my loads. As I fell my eye hit one of the large sticks that had fallen from my head.
The pain was so bad. I could only cry and felt left behind. Within days my vision went cloudy with the whiteness of a huge cataract. I have not returned to school since the accident.
As my vision left me, I knew I would never attend school again.
I was very sad and so was my mother. The area we live does not have eye care services, so when my mother heard from village neighbors that an American NGO, Sight.org, was at our local medical center, she took me.
I met Papi Pierre, a Sight.org team member, who checked my vision. All I could see was a hint of a flashlight torch. Then Papi took me to another Sight.org team member. She was a woman named Laurie. She examined my eye thoroughly and put medicine in it. She then took many photos of my eye. She didn't speak our local language, so another Sight.org team member translated in our Ewe language that they were going to pray with me and that they would do everything possible for me medically, but that it was "Yesu" Jesus who is the great physician and healer of all sight.
I tried to be hopeful but it was hard as I sat and watched my mother pray for me mourningly.
The next day, I had surgery. We spent the night in a tent that Sight.org provided us to stay in. I had never slept in a tent before. The following day Papi took the patch off my eye, and instead of just seeing his torch light, I could see his hand movements. Laurie said, "Do not worry, it's just the first day, it will get better." She was right. I saw the team of Sight.org one week later, and now I can count Papi's fingers from a two meter distance.
My smile is back and I am beginning to SEE hope of returning to school. Thank you, Sight.org! Please keep praying for me!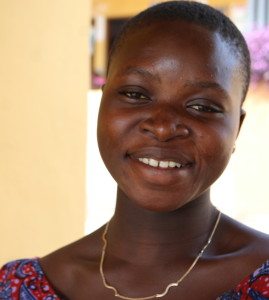 Story written by Sametone Brunel, Sight.org journalist