We have been in beautiful, sunny, HOT Togo, Africa for 3 months now.
We have come a long way in many aspects of the word. We are breaking into a new language and can communicate some but we have a long way to go.  We have French lessons that are classroom style every Tuesday and Thursday with Joseph who has graduated from the University of Lomé.  We are blessed to have him teach us. We really enjoy the time we have with him. Not only are we learning conversational French but learning the grammar and writing of it as well as learning the customs, culture, and history of Togo.
We received our packets of seed from America and are excited to say we are working to get them into tilled ground by next week. We are happy that God has sent the rain to soften the ground. Different team members have their own plots and the plot we chose has never been broken up so it was especially hard.  Unfortunately, because of the way they do their rows, both Wayne and I could never do the back breaking work, so we hired some school age boys who come after school to do this BIG job.
We are learning much about farming, as this community and region is mostly farmers. This city girl is now a farmer's wife, who would have guessed?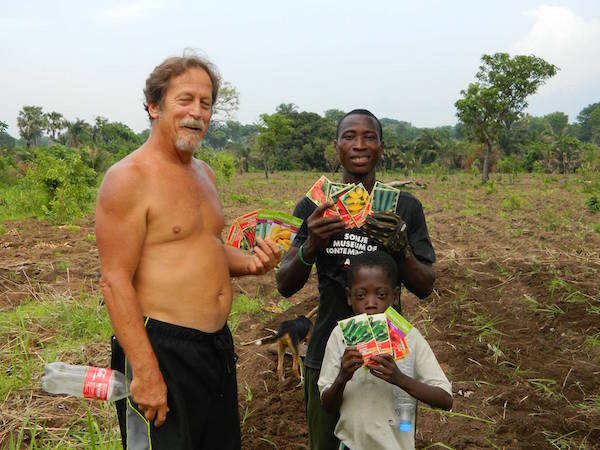 Wayne, Ishaka and Chris holding the seed packets that we are going to plant!!! We are so excited!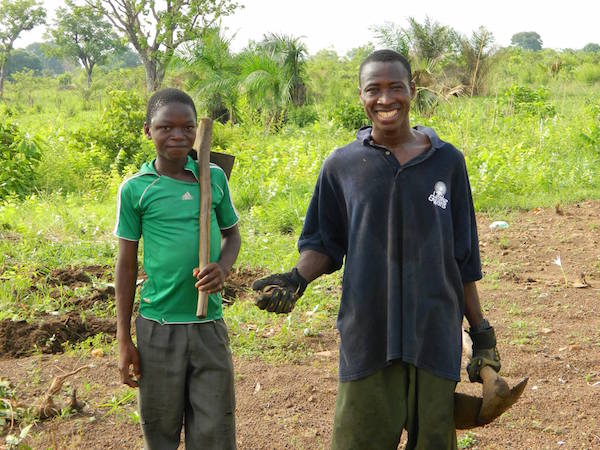 Our head farmer—Ishaka with one of the young boys who tilled up our plots!! We have all the plots behind them to plant!!! We're planting corn tomorrow!!! We can't wait for the harvest!!
Our church is small and is only .02 miles from our farm.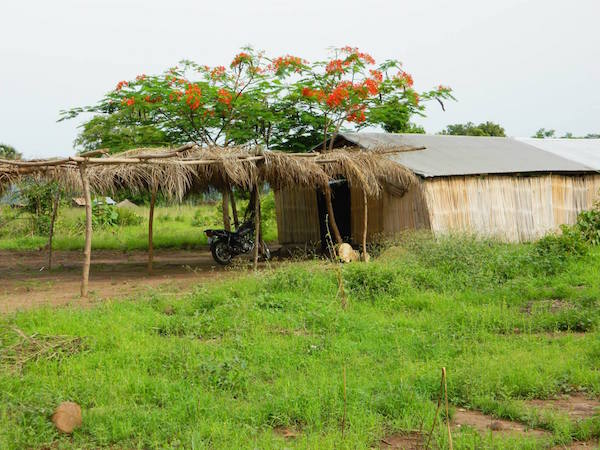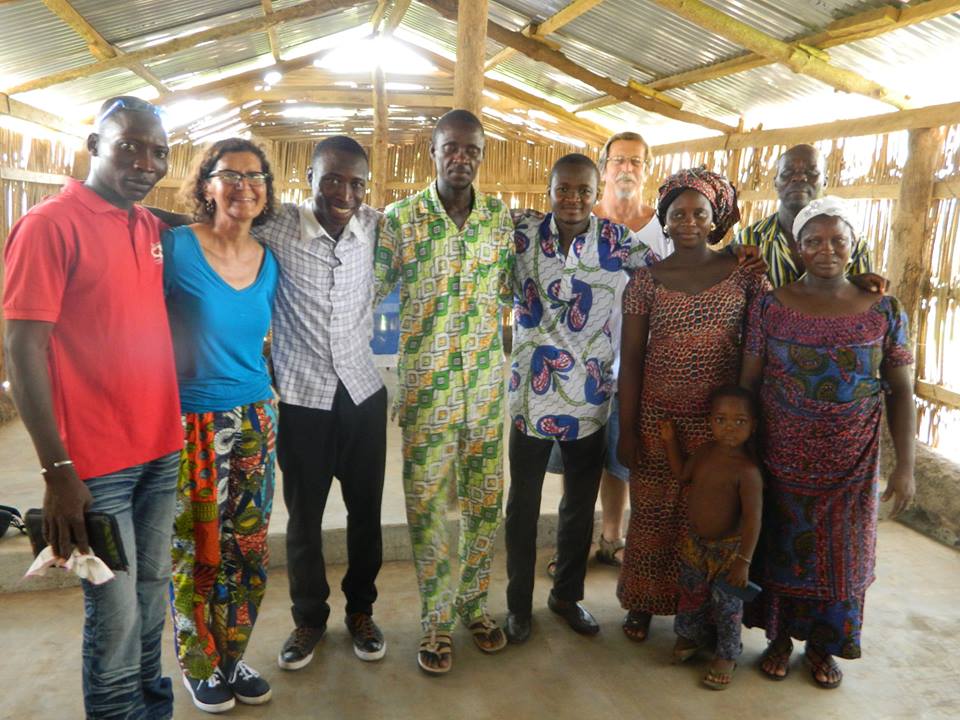 It's a little Assemblies of God church and has about 50 members.  We love their worship time and love to watch the children dance.  The service is done in both Ewe and French and one of our team members translates to English for us.  We have such a fireball of a pastor and this church loves to pray and has a passion for God, especially the younger kids. 
We were glad to have a part in helping to finish their concrete floor this week inside of their building. We hauled all the water for the man who was going to do the floor, otherwise the children would be responsible to haul it up in buckets after school from the well.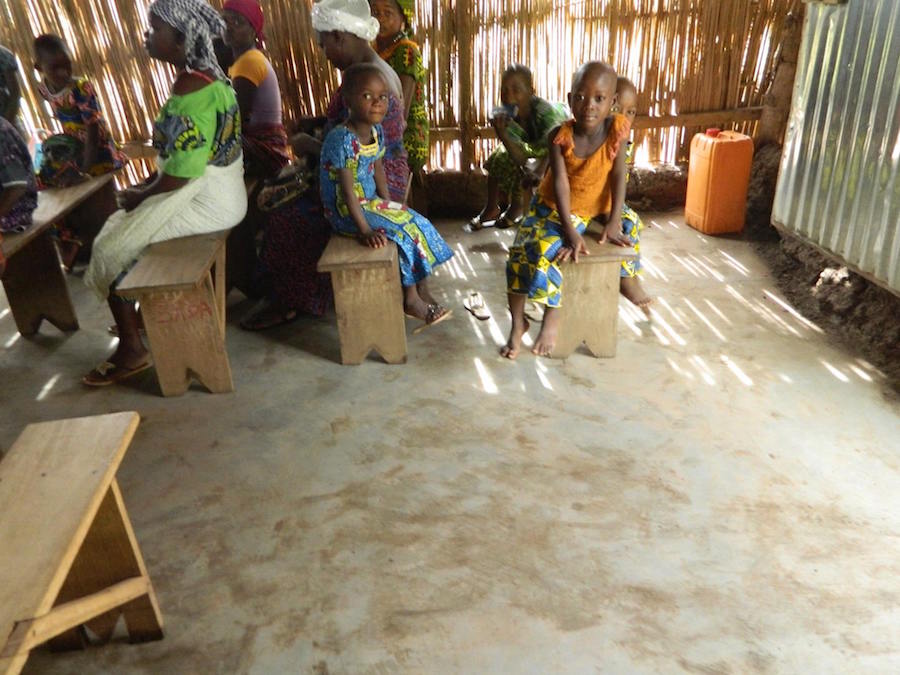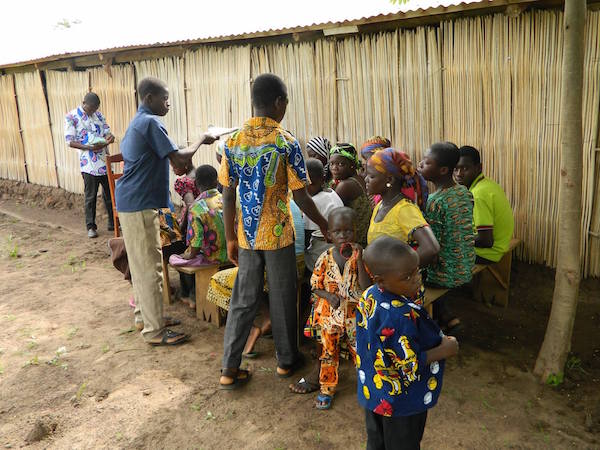 They hold one of their Sunday School classes outside and we do the one inside for adults!
Our whole team has been battling what seems to be Malaria. We are starting to recover, but we are still weak and wiped out. Please pray for healing for us and the rest of the team. 
We want to thank all of our family, church body and donors for making this possible.
God's adventure is slowly unwrapping before us.
It is a privilege to serve this community and team! Thank you for all the cards, pictures, and gifts that was sent to us. We truly appreciated the time, effort, and cost in doing this for us!!! We miss you all so much and our previous lifestyle in American is fading so quickly but we will never forget you guys!!!
The pace of Africa is SLO-MO here if I can describe that for you. We will try to explain that in many ways in the months to come. We are praying for you. We certainly can feel the prayers from home!!!