For the last two years, Dr. Neshia Rudd at Today's Vision has partnered with Sight.org.
Their partnership is very special to us because they were the first optometry clinic to donate $1 to Sight.org for every eye exam they perform. Dr. Rudd has such a generous and willing heart to support us. She approached us, looking for a way to help and we welcomed her with open arms.
We wanted to celebrate her partnership and say a very big thank you. Our Development Director, Beth Reed, interviewed Dr. Rudd last week. We hope that in this interview, you will see her heart and celebrate their partnership with us!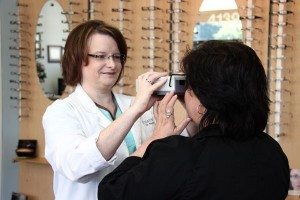 Beth: "Why did you become an optometrist?"
Dr. Rudd: "Wow, that answer could take a while. I have had eye problems since an early age, but what impacted me the most was something that happened in junior high. When I was in seventh grade, in science class, we dissected an eye and I was fascinated!  At the same time, I was going to a female Optometrist regularly and she encouraged me to become an optometrist.  I knew then that I wanted to be an optometrist."
Beth: "What brought you to Today's Vision in Tyler?"
Dr. Rudd: "I was born in Dangerfield, so after school, I knew that I wanted to come back to East Texas to be near my family. I had a choice between working in Tyler or Longview. Tyler had a Starbucks, so my choice was made! I'm just kidding, really. I had a mentor that led me to Tyler, and I have always loved it here. I have been here since 2004."
Beth: "You do something called vision therapy at your clinic. What is that?"
Dr. Rudd: "Vision therapy is for the eyes and brain. It is a series of treatment procedures prescribed by optometrists to improve certain types of vision problems that cannot be helped with only glasses or contact lenses.  Vision therapy is much akin to physical therapy for the eyes, during which vision disorders are corrected to improve patients' visual function and performance. Vision therapy treats vision problems children have when using their eyes up close, especially at school.  Problems with tracking, eye teaming, and focusing make it impossible for children to read, learn, and remain on task. Vision Therapy also helps people who play sports. It is usually called Sports Vision Therapy, but involves many of the same activities that we do in our therapy sessions."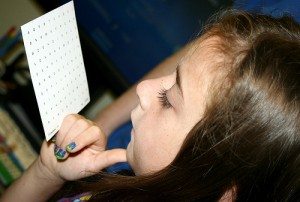 Beth: "Why did you start doing vision therapy?"
Dr. Rudd: "My niece started struggling in school when she was in 3rd or 4th grade. I wanted to help her, so I started researching vision therapy. I realized that I needed to go back to school to help her. After getting the training I needed, I added the therapy to my practice. It has become an amazing blessing to my patients. There was a time where I wasn't sure if I should add it to my practice, because I was the only one doing it in Tyler. But one day, as I was going through a Bible study, God clearly revealed to me that this therapy would be an answer to many mom's prayers who feel they have no other options for their children who are struggling in school. I am thankful that God has provided this for our practice."
Beth: "I love what you do with vision therapy! My 5-year-old son just got his eyes checked at Today's Vision. I could tell that what you were doing was more than just a routine check. It was very interesting to see the many different ways you were checking his eyes. Your staff is really great with kids. I was also intrigued by some of the information that I read while I was waiting. I saw that a child can pass an eye exam at school even if he or she is dyslexic, seeing double, or has blurred vision. I love that you can help children who struggle with those things so they can do better in school."
Dr. Rudd: "Your son was a trooper! He did so well! Yes, we are thankful that we are able to help children in a way that many vision clinics are not doing."
Beth: "What made you start giving to Sight.org?"
Dr. Rudd: "Lewis Swann and I have a mutual friend, so when I was looking for a good organization to give to, my friend pointed me to Sight.org. After meeting with Lewis and hearing about the work that Sight.org does, I knew I had to help in some way. Lewis told me that they have patients lined up but sometimes he has to delay surgeries for financial reasons. I had tears in my eyes when I heard this. I couldn't fathom having to turn away patients. I love my partnership with Sight.org. I am so thankful that I can help in some small way.
Beth: "What would you say to other vision clinics who might be interested in partnering with Sight.org?"
Dr. Rudd: "Sight.org is doing amazing work in West Africa, and they are capable of performing more than 650 eye surgeries per year. They have been blessed in their rapid growth, but sometimes they have to turn people away due to financial limitations. Many of these people have been blind for years, and it is heartbreaking to tell their patient that they have to wait. We are thankful that we have been able to support them financially and we would love other clinics to do the same thing.  Lewis expressed that if there were 24 partnerships like ours, they would have met that goal and would never have to turn down a patient again. Then, any extra donations can simply increase their number of surgeries and further the foundation of their program. I have found Sight.org very easy to work with, and for every 150 eye exams we perform, a blind person in Togo has their sight restored. To us, it's too good not to be involved."
---
If you are an eye clinic or optometrist or know of one who might be interested in becoming one of our Visionaries, let us know!!! We would to have you on board!
---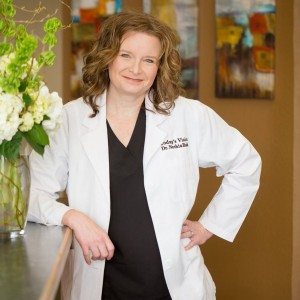 Thank you Dr. Rudd for letting us interview you and for your constant support of Sight.org!