Next week, we will have the 4 of our 7 mission team members on the ground in Togo. A few weeks later, the other 3 will be arriving. We would like to introduce you to the team and give you an idea of what they will be doing in Togo.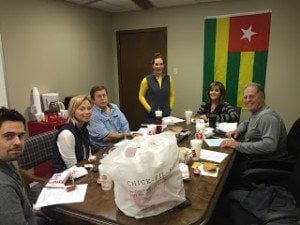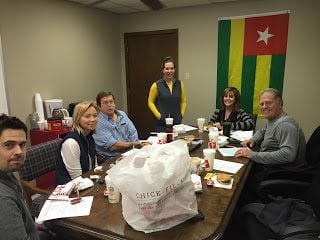 From left to right: Lewis Swann, Naomi Swann, Wayne Riley, Beth Reed, Linda Payne, Larry Payne, (not pictured) Elaine Riley.
Lewis and Naomi Swann are the founders of Sight.org. They will be leading the team as well as supporting our medical staff in Togo. Read more of their story here.
Wayne and Elaine Riley will be living in Togo for the next year. They will be there to support the medical staff, help run the farm, assist in evangelism and discipleship in the villages, and help build new housing and facilities on the farm. Elaine has been on staff at the Sight.org office in Tyler for the last year. Read more of their story here.
Larry and Linda Payne will be on the first flight and are going for six weeks. They run a healing ministry in Lindale, TX and Linda is a Christian Counselor. They will be ministering to the team and assisting in evangelism and discipleship in the village. They are also praying that God will use his healing power through them as they meet people in need in Togo.
Beth Reed is our Communications Director and Volunteer Coordinator at our Sight.org office in Tyler. She has been to Africa numerous times but this will be her first time in Togo. She will be going with the Rileys on the second flight. She will be assisting our Field Journalist, Sametone Brunel, and coordinating their efforts to better communicate patient stories back to our supporters in the US. She is very excited to see the patients with her own eyes and get a feel for life in Togo. She will also assist in administrative work for pre and post-surgeries. Read more of her story here.
Please pray for our team as they prepare to go. We have set up a prayer calendar for the mission team and our medical staff. We will be sending updates as the team arrives next week.