At Sight Night: The Joy of Sight, we featured local art in our silent auction. Each artist read through the Sight.org blog and then created art inspired by those stories. We are blown away at the talent of each one of these artists! They truly captured the heart and mission of Sight.org. Below, you can see each piece of art and the stories behind them. You can see more photos from the event here.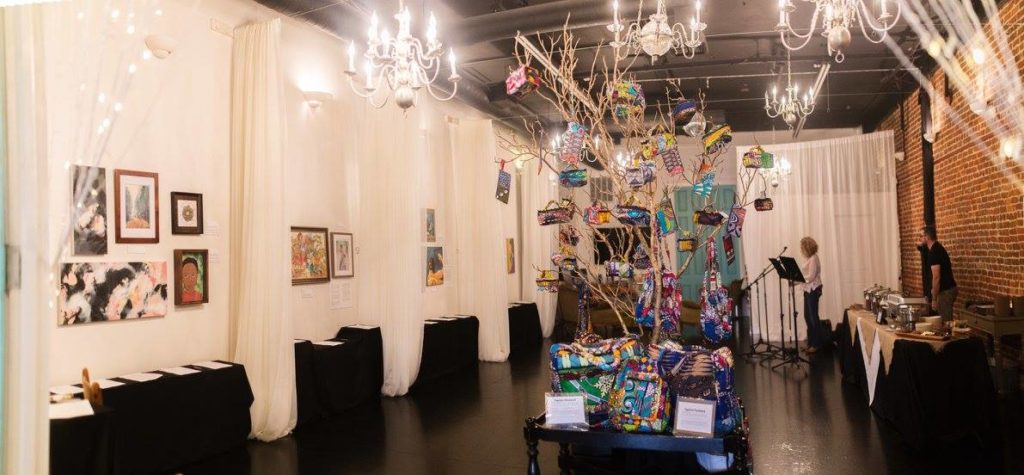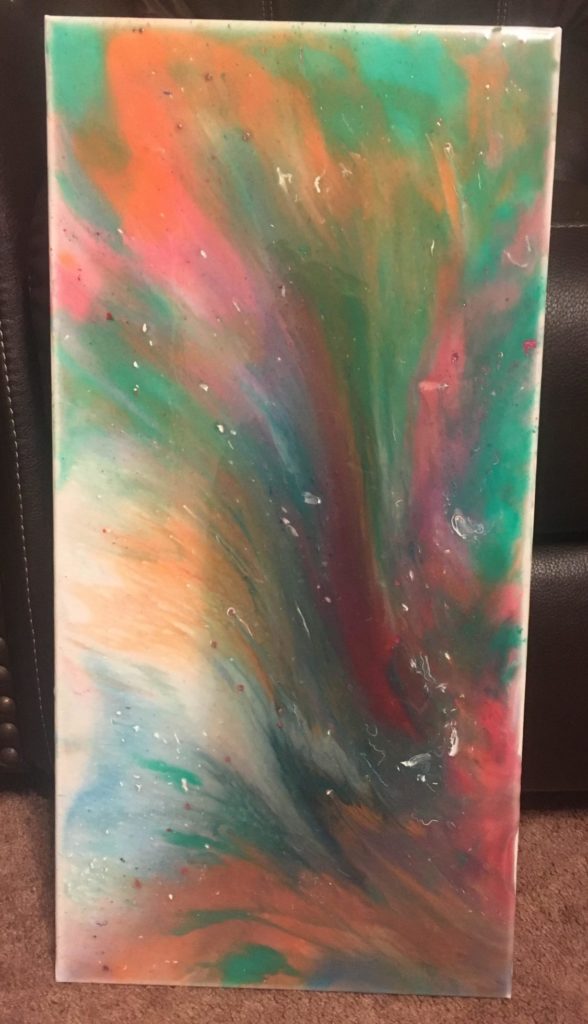 Cairo Reyes
"Being Free"
Resin / Acrylic
Inspired by the blog story, "Meheza Means "I Am Free"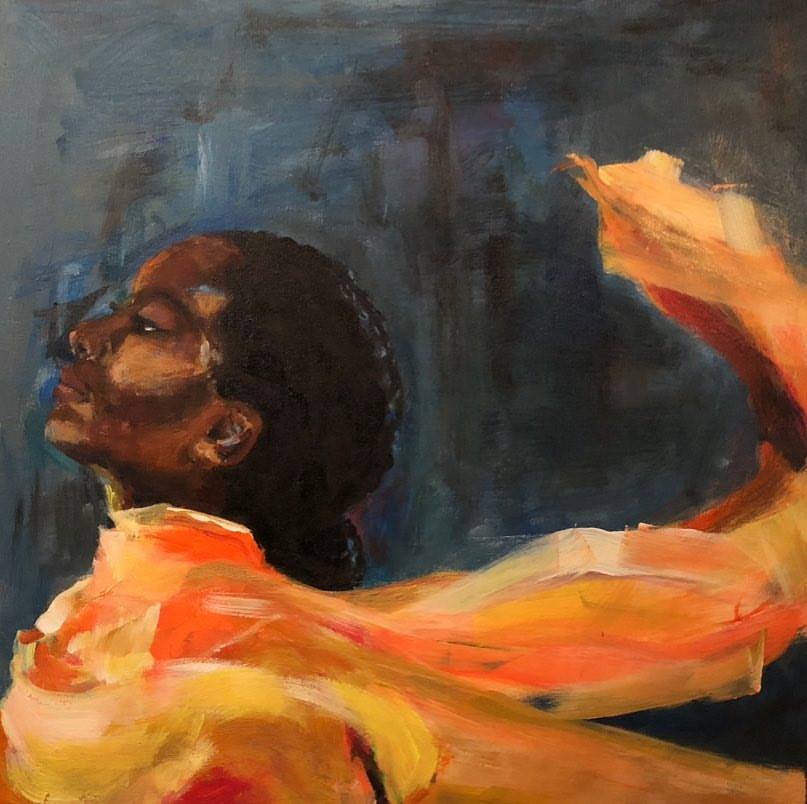 "Meheza: "I Am Free"
textiles/fabrics
Inspired by the blog story, "Meheza Means "I  Am Free"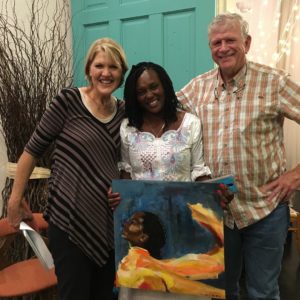 This is a painting of Meheza, the Togo Director of SIght.org. Meheza has been in the United States for three weeks. She attended Sight Night and got to see this painting of her. From the second she saw the painting, she said numerous times, "I wish I could buy that painting for myself!" The person who bid on this painting felt led to give this painting to Meheza, not even knowing that she wanted it. When she presented the painting to Meheza at the end of the night, everyone had tears in their eyes.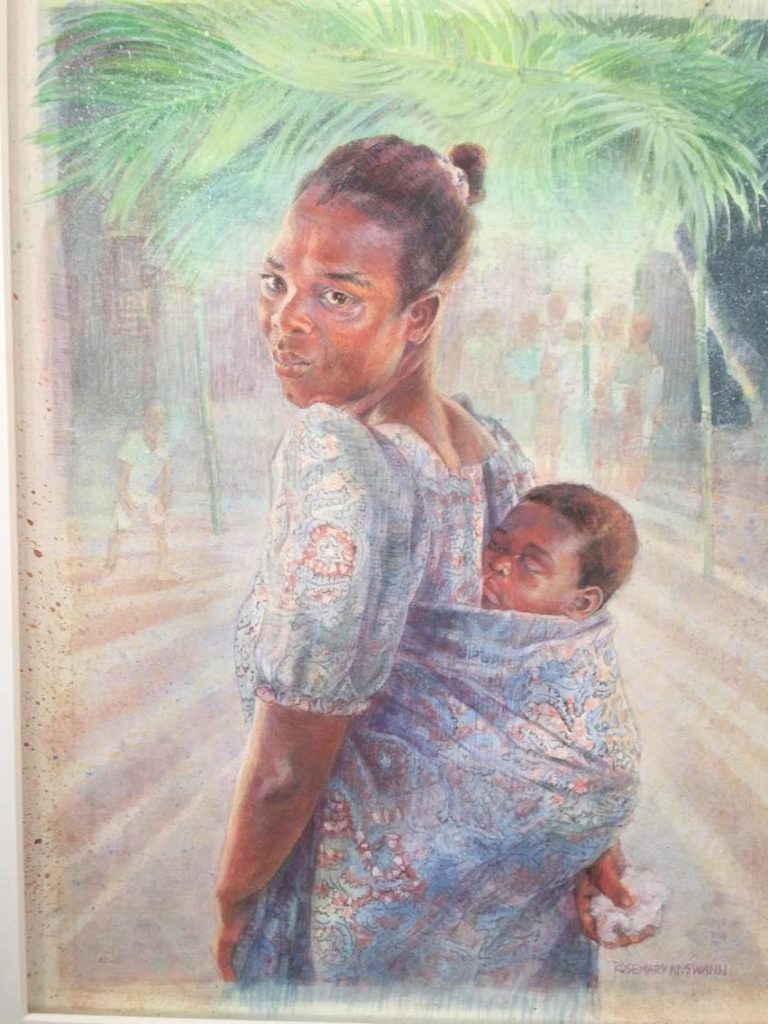 "Elizabeth"
Gouache and acrylic on archival board
Inspired by the blog story, "Elizabeth"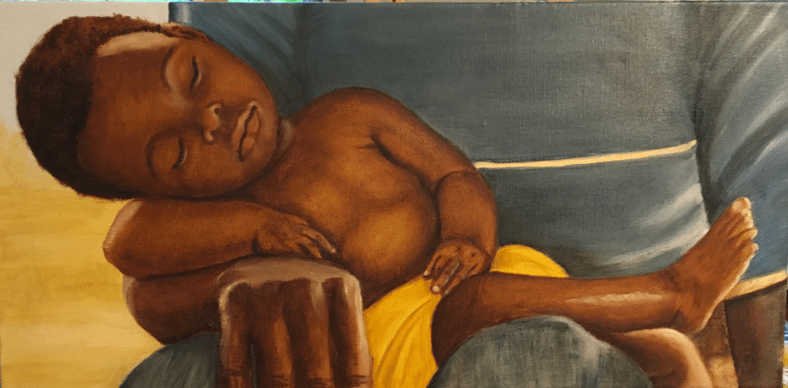 Monique Dorsey
"In My Father's Arms"
Oil on Canvas
Inspired by the blog story, "Story of an African Father"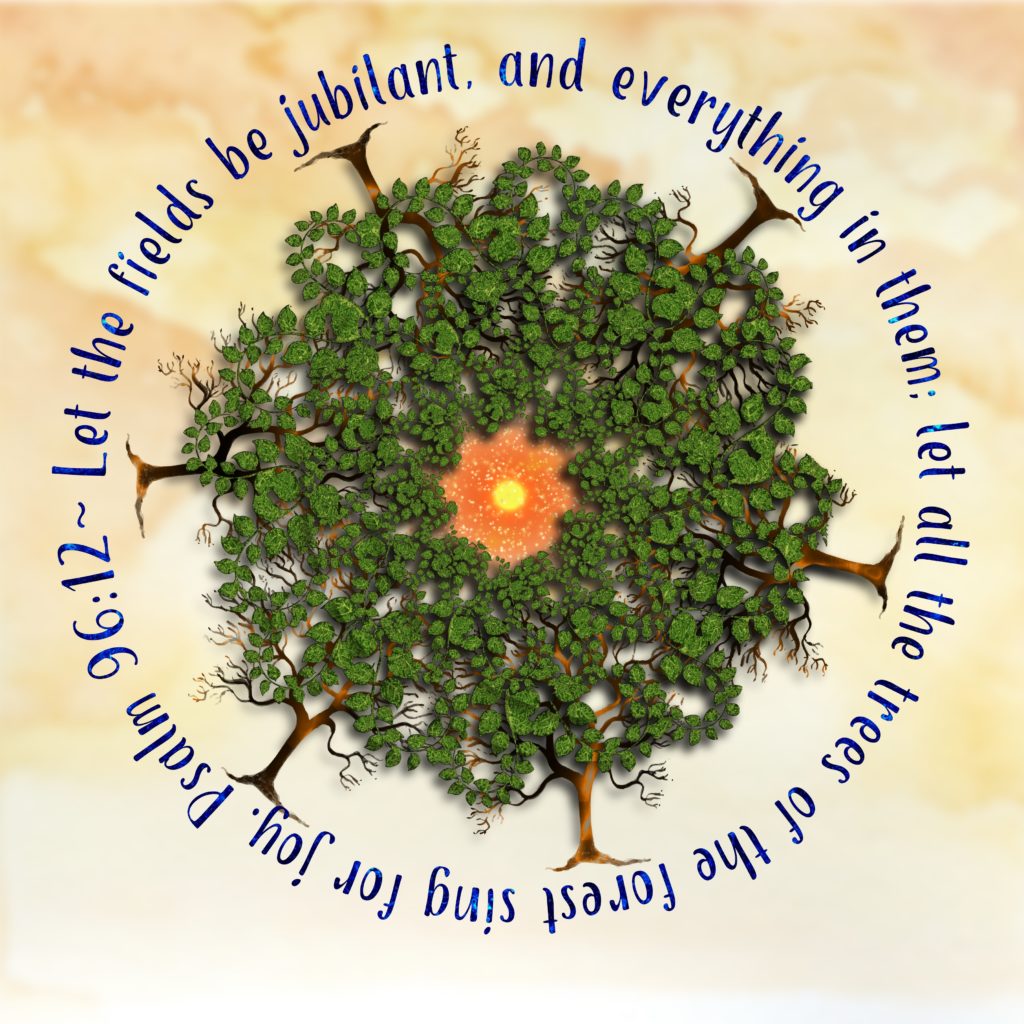 Carrie McFerron
"An Infinity of Trees"
Digital Collage
Inspired by the blog story, "Hungry for Jesus"
The artist was especially inspired by the house church meeting under a mango tree.  She said, "I kept thinking about how God put that mango tree in that spot so that people could learn about Jesus. The planting of a tree to enable the planting of a church seemed like such a perfect parallel. So I looked for a verse that conveyed the concept and came upon Psalm 96:12, 'Let the fields be jubilant, and everything in them; let all the trees of the forest sing for joy,' which made me thing of a forest of churches that could be planted as a result of the gathering under the village mango tree. Hence, I made an image with a wreath of trees, creating an infinite number of churches. When you read all of Psalm 96, you realize how missional this Psalm is, which is very rare for the Old Testament! Verse 3 says, 'Declare His glory among the nations, His marvelous deeds among all the peoples.' Verse 7 says, 'Ascribe to the Lord, all you families of nations, ascribe to the Lord glory and strength.'"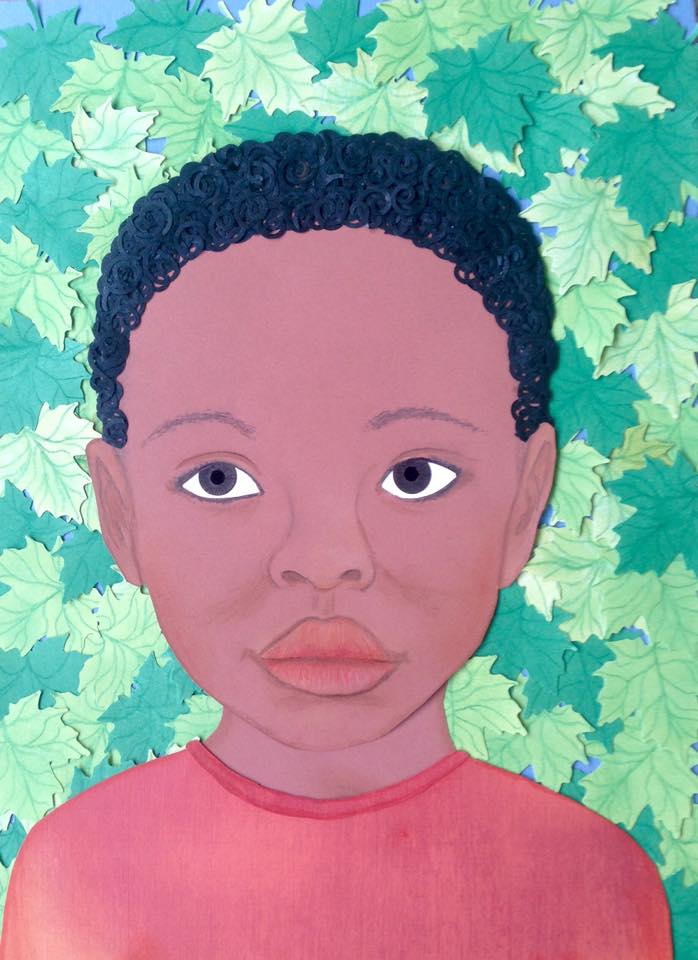 Carrie McFerron
"Edem"
Paper Cutting
Inspired by the blog story, "Hungry for Jesus"
Edem is a popular name for Togolese boys. The name is derived from African-Ewe and means "God has saved me." The little boy I have depicted in this paper cutting represents a future child who will be born to Christian parents, and who will also become a Christian, as a result of the Sight.org team planting a church in his village. Just as a tree is symbolic for Edem's church, Edem represents one of the leaves on that tree. Each leaf behind Edem in the paper cutting is a reminder of the many new Christians in Edem's village and in other villages across Togo because of Sight.org's work.
"Grace Chairs"
Two Chairs with Seat covers that are hand painted by artist
Inspired by the blog story, "Weary of Serving, Give What You Can"
The artist stated, "I have sang and played music my whole life. It is one of the things I love to do. In the car, at home, in the studio, the grocery store. I sing everywhere I go and so do the kiddos. Song is free and a gift from God. I am made these chairs for two reasons. 1. Because just like our sight, having chairs to sit in is a luxury we often do not think about and too often take for granted. 2. Sitting and singing/harmonizing with someone is one of the most joyous events we can share with another human being. These chairs are fully functioning with actual paintings covering the seats. The original painting has the word grace written on it in many different ways. My hope is that these chairs are incorporated into someone's home or business where song and laughter can be shared, stories can be told and meals can be eaten all while sitting on Grace."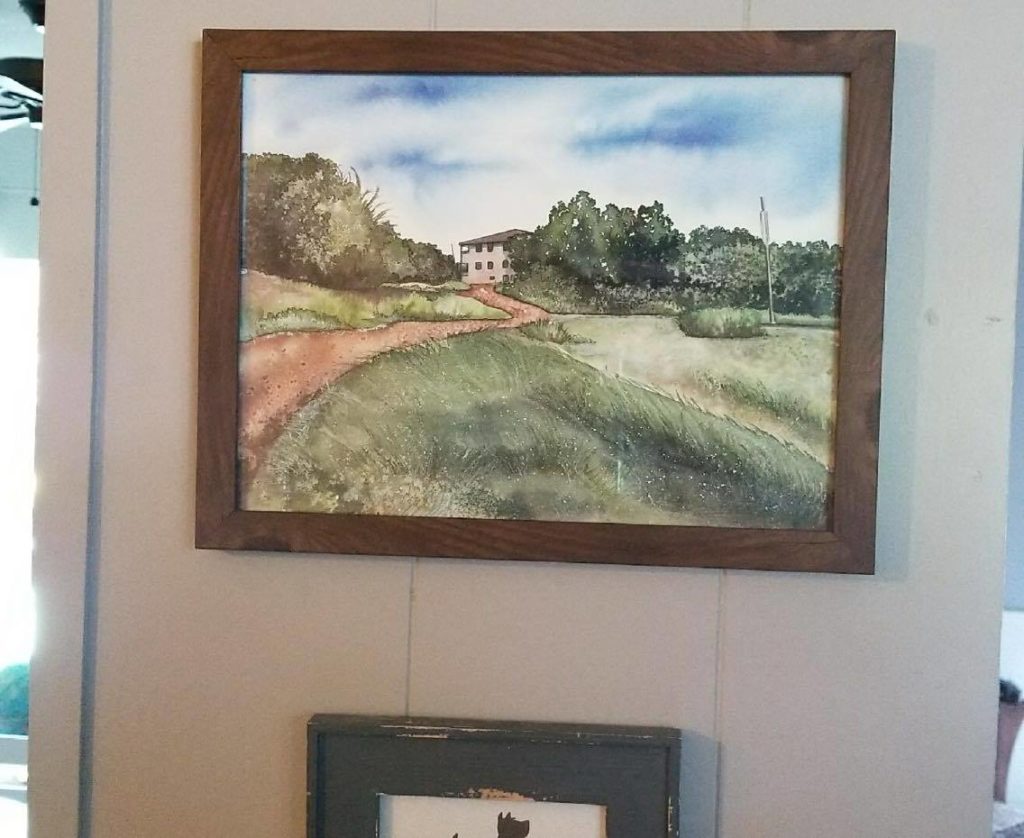 "Farming God's Way"
Watercolor on Archival Paper
Inspired by the blog story, "Connection Between Farming and Eye Surgeries"
"This piece was inspired by the training Sight.org is doing in Togo. Leaders are being trained in modern farming methods which produce ten times more produce than traditional methods for the area. My dad was a landscaper for over 30 years and I've grown to appreciate any and all forms of planting. God is so good to provide us with a simple way to provide for ourselves."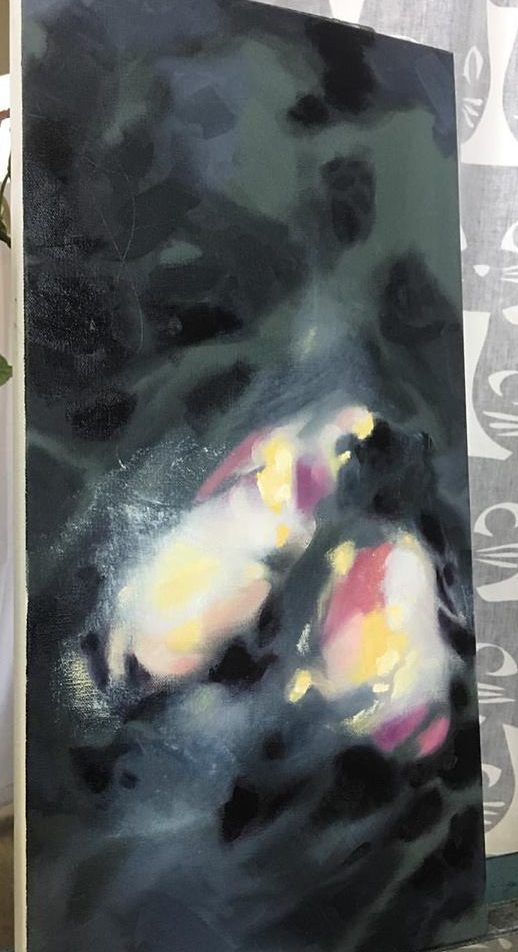 "Germination"
Oil on Canvas
Inspired by the blog story, "Connection Between Farming and Eye Surgeries"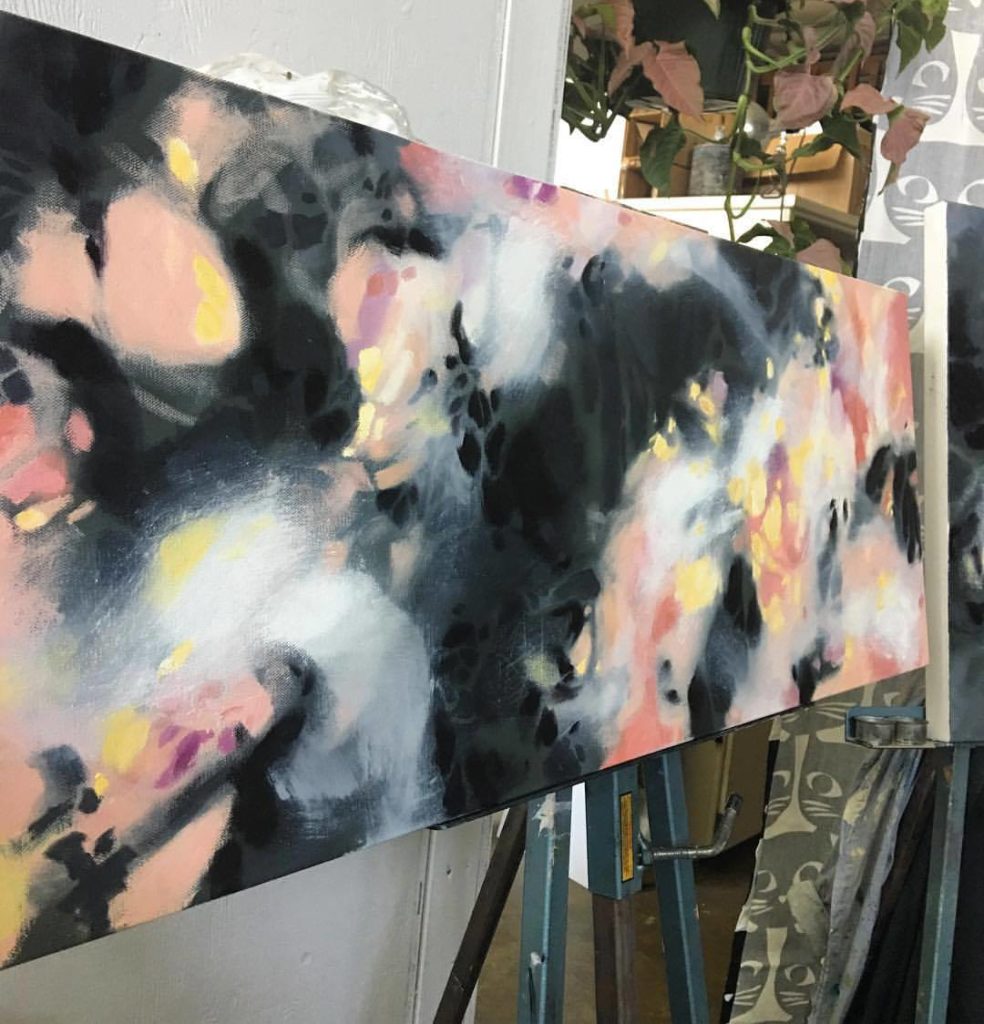 Plethora
Oil on Canvas
Inspired by the blog story, "Connection Between Farming and Eye Surgeries"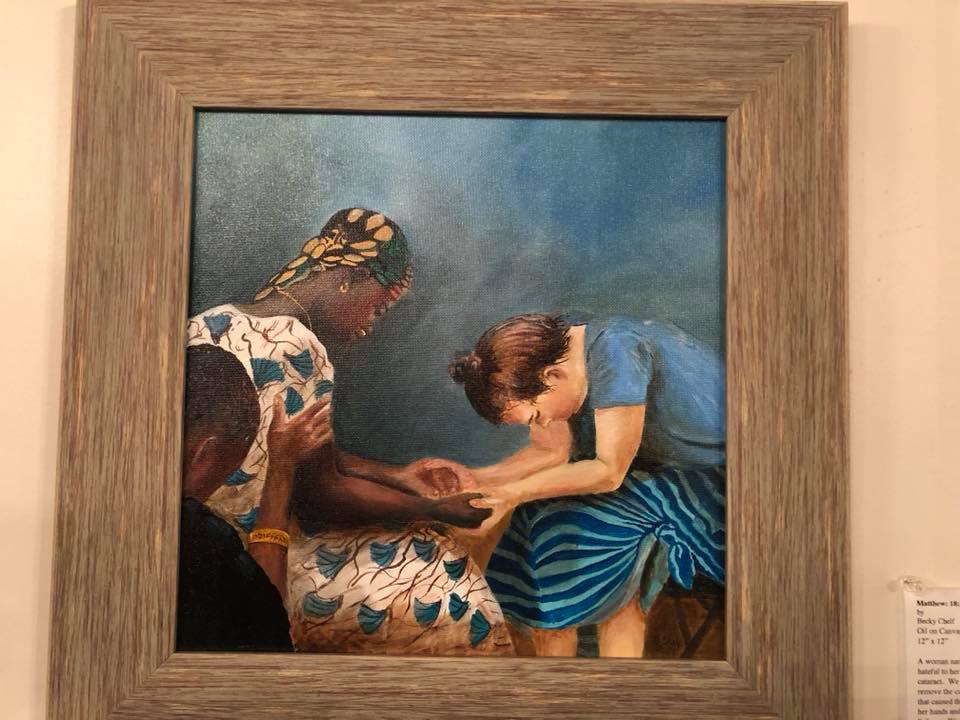 Becky Chelf
"Matthew: 18:20″
Oil on Canvas
Inspired by a story on the Sight.org Facebook page.  "A woman named Sofoura came to us to look at her eyes. Her sister-in-law was very hateful to her and hit her in the eye. She hit her so hard that she developed a traumatic cataract. We told her to come to the April eye surgeries to see if our Sight.org medical team could remove the cataract. As we talked to her, she told us that she had an infection in her fingers that caused them to swell. They were so painful that she could not sleep. We prayed over her hands and then took her to the hospital to pay for treatment on her hands."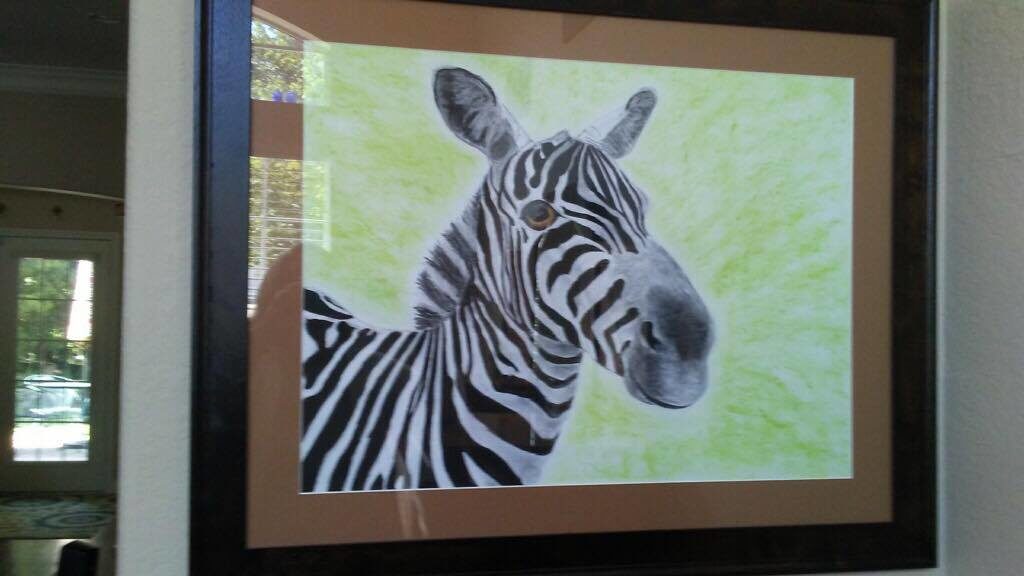 Nicole Root
"They Once Were Blind but Now They See"
Charcoal and Color Pencil
Inspired by the general work of giving sight to the blind in Togo, Africa. The artist stated, "God has created so many wonderful things, one of which are eyes. The eye can express so many different things, pain, joy, anger, etc. I was inspired to give this piece because the eye stands out, and I take for granted the face that I can see. I want others to experience the joy I see every day. I thank our heavenly Father for this opportunity to shine the light of Christ."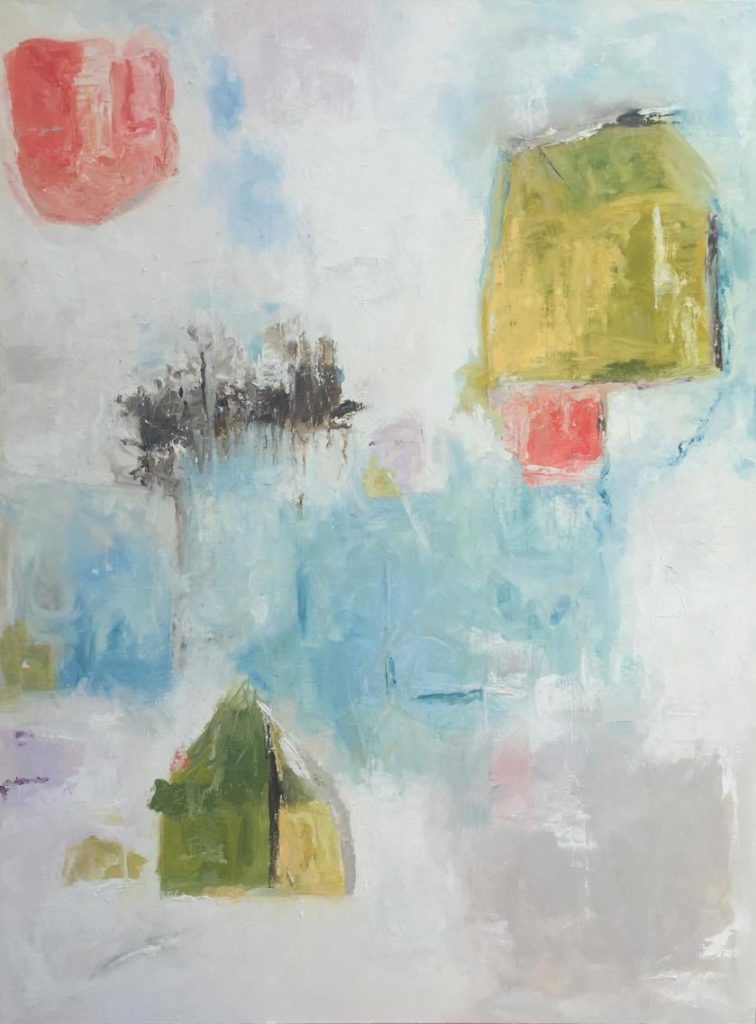 Stephanie Nickel
"Neighbors"
Oil on Canvas
Inspired by the blog story, "The Faces of Adjon"  "They meet in the middle of their village, where everyone can hear them. Their praises cannot be ignored."
In this abstract piece, shapes emerge giving an allusion of buildings-houses or perhaps a church. A grouping of muffled figures appear, gathered closely together. They are other worldly, seemingly floating in space. The title of the piece is "Neighbors." Jesus tells us that we are to love our neighbors and have mercy on them, making it clear that we are all neighbors.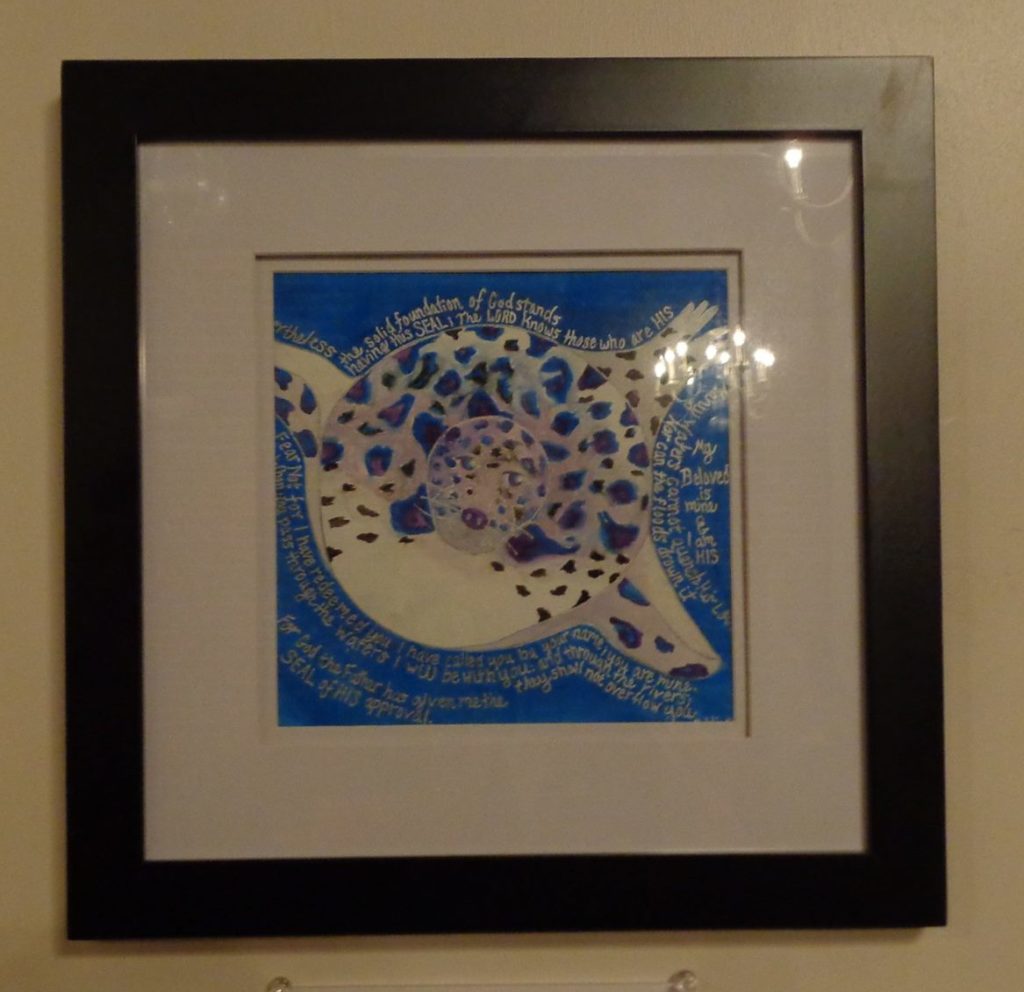 "Now I See You"
Watercolor on Archival Paper
Inspired by the general work done by Sight.org.
The painting above is of a blind harbor seal I met a few years ago named Porter. Porter was rescued and now lives at Moody Gardens. I believe that everyone deserves healing, and everyone deserves the gift of sight. I was so touched and inspired by this seals perseverance that I started a series of watercolor portraits of what he might look like if his eyes were completely restored, healed, and he were no longer blind.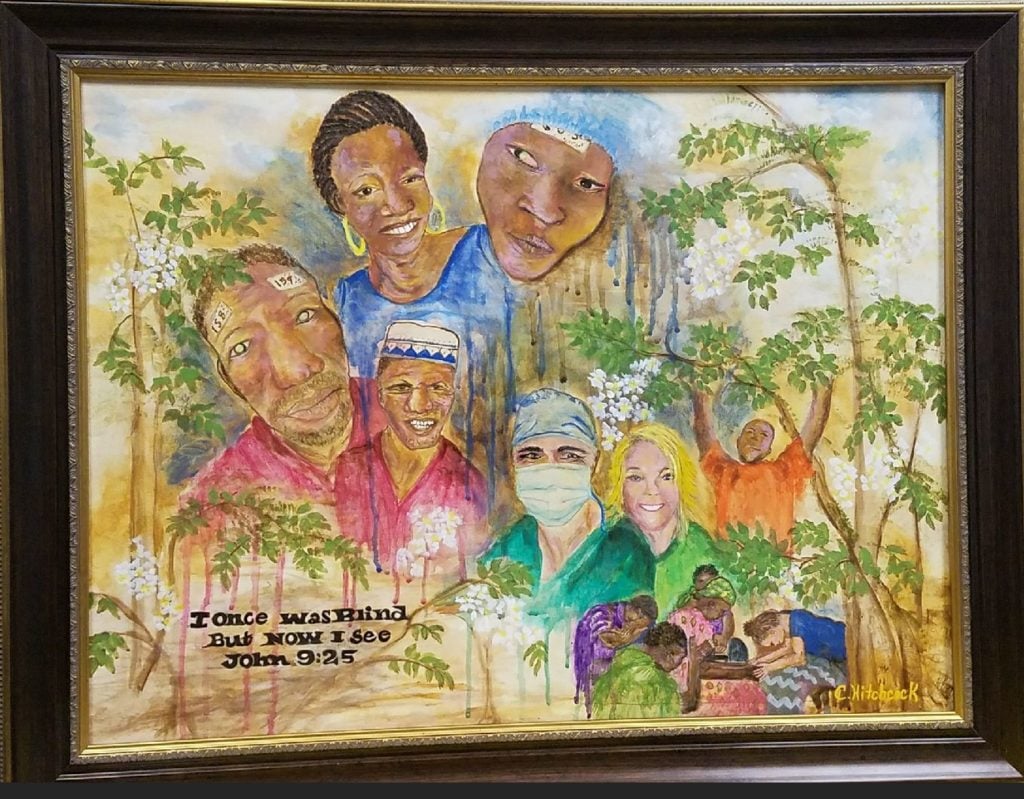 Cynthia Mullen Hitchcock
"I Once Was Blind But Now I See, John 9:25″
Acrylic on Canvas
Inspired by the heart of the administration of Sight.org and the passion and compassion they have as a team for those that can't. It just takes one to have a heart to make a difference. Can we all join in with that heart? In this painting it just shows a few of the lives they have changed from surgeries, to church plantings, prayers and nutrition. In the center of the painting starts from the hearts that started this program and how it spreads from one heart to another.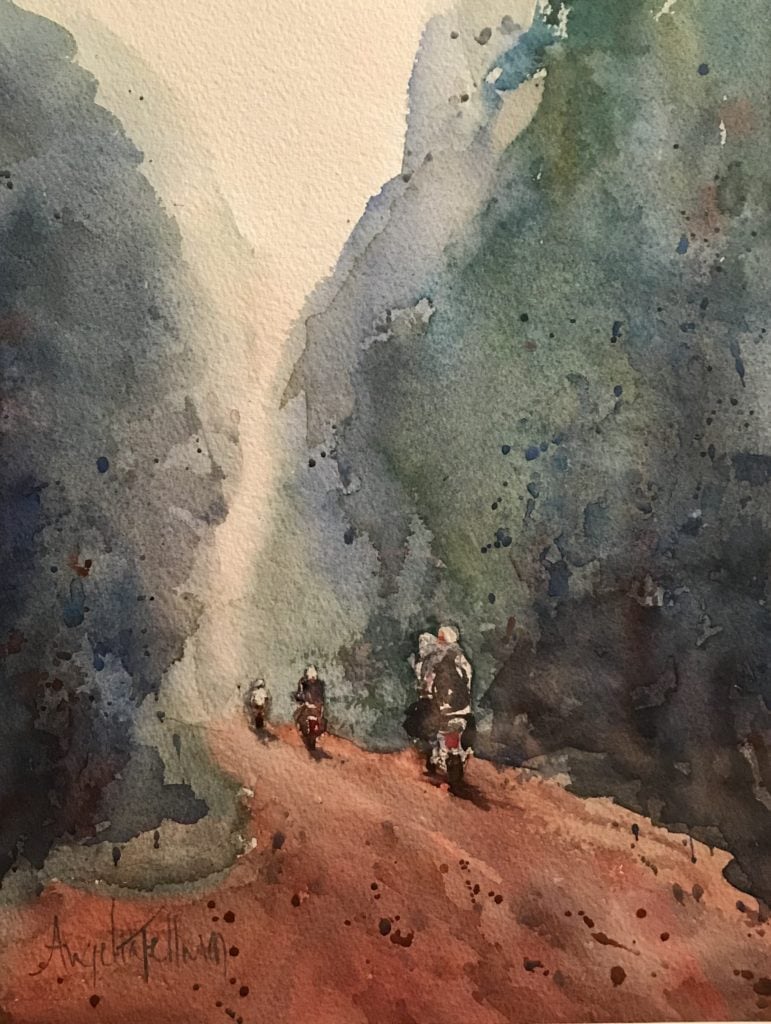 "Off Riding on the Road"
Watercolor on archival paper
Inspired by the early work of Sight.org. Before we had an ambulance, teams set out to remote areas on motor bikes in order to do eye surgeries. The lush foliage and red earth is abundant in Togo.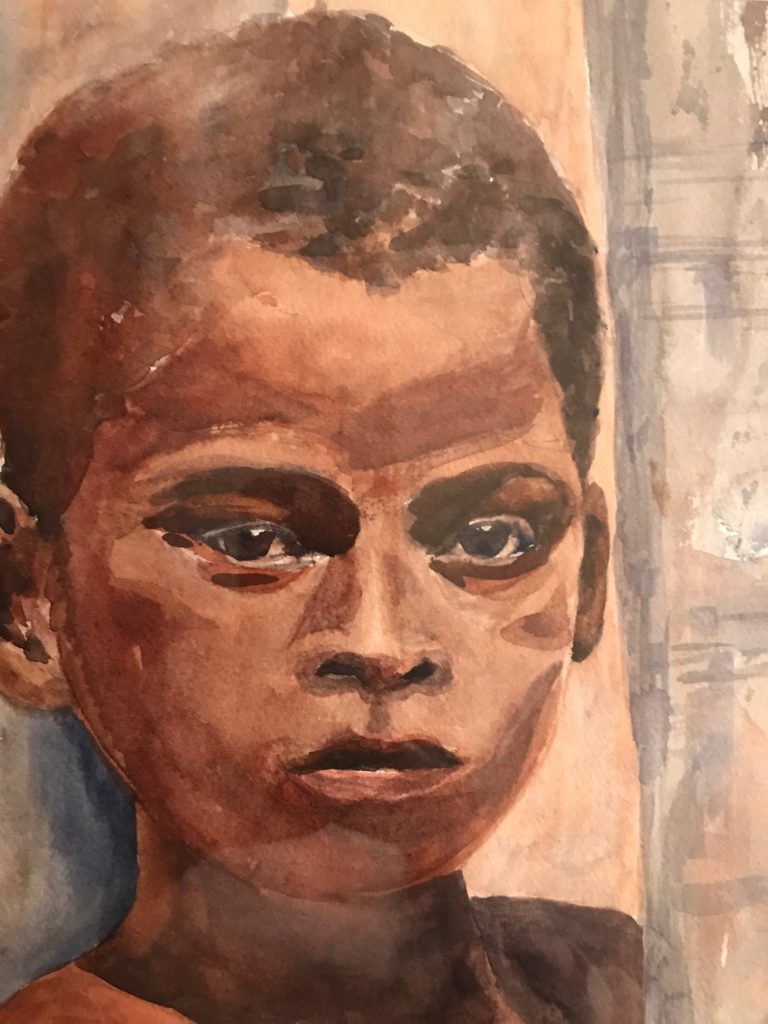 "Portrait of a Boy"
Watercolor on archival paper
Inspired by the Sight.org mission statement: All people are redeemable through Christ's finished work on the cross, and we believe He died so that we could carry His light to the ends of the earth. By His grace, we have been redeemed to bring light to the BLIND, the UNREACHED, and the MALNOURISHED in Togo, Africa.
This painting is of one of the many faces of Togo where malnutrition causes cataracts. Sight.org not only performs cataract surgery, but also educates best farming practices.